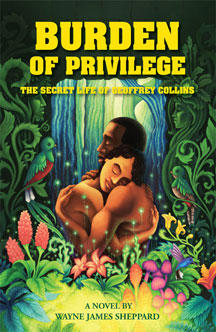 &nbsp&nbsp Author Wayne James Sheppard takes us on a journey of interwoven past and present lives in Burden of Privilege: the Secret Life of Geoffrey Collins, a story of mystery, struggle, love and hope.
&nbsp&nbsp In 1942, only months before his passing, the great scientist George Washington Carver imparts secrets of monumental importance for a future earth to his young beloved student, Leopa Williams. Many decades later, Dr. Williams, a Tuskegee University professor emerita discovers Geoffrey Collins, a visiting young botany professor from U Davis in California , to be the reincarnation of Dr. Carver. When she reveals her discovery to Collins, he responds with resistance and panic as his heretofore undisturbed, charmed life is thrown into an uncontrollable turmoil.
&nbsp&nbsp A series of haunting dreams, mysterious out-of-body meetings with a Mayan shaman, and other-worldly experiences are all events that will shape and condition Geoffrey and his fiancée, Eva, for their participation in an amazing world-wide Great Event.
&nbsp&nbsp Burden of Privilege leads the reader through an extraordinary odyssey of spiritual awakening, leaving that reader with unexpected resolve for active stewardship in helping cultivate a New Earth.